Pretty soon, even our cooler locales in Arizona will be feeling that summer heat. The great thing about traveling in a fully loaded adventure rig from N2 Explore, is that you can take it anywhere in the US! Being centrally located in Phoenix makes us less than a day's drive from lots of cool spots in our neighboring states. We've gathered up some fun destinations in New Mexico, Utah, Southern California, and Colorado—because our sense of adventure won't be contained by state lines and neither should yours.
New Mexico
White Sands National Park, 4116 feet – 6.5-hour drive from Phoenix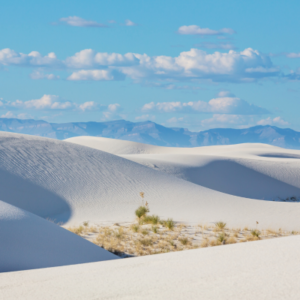 Located in central New Mexico, less than one hour from Las Cruces, White Sands National Park protects a section of the largest gypsum dune field in the world. The sand sparkles in mid-day sun as you tromp around on the dunes. Grab a sled and take the fun way down. Make sure to plan you visit on the full moon and take the monthly ranger-led full moon hike to see the dunes in all their eerie moonlit glory. There are tons of camping options near the park and in nearby Lincoln National Forest. The New Mexico Museum of Space History is less than 20 miles away and includes an IMAX theater, for the ultimate cool relaxing mid-day activity. Average highs in White Sands do creep near 100 in the hottest months but are quite pleasant in early fall or late spring and make a great escape from Phoenix.
Taos, 6969 feet – 9-hour drive from Phoenix
Taos is a sweet mountain ski town tucked into the Sangre de Cristo Mountains. It's funky artistic vibes and outdoor culture combine to offer limitless possibilities for exploration. Art galleries line the street, and live music can be found almost any night of the week. Wheeler Peak, the highest point in New Mexico is just a quick jaunt (and an 8-mile hike) from the center of town, making it a fun adventure outing—make sure you're prepared for a high-altitude experience, as the mountain clocks in at over 13000 feet. Wheeler Peak is just one of a seemingly endless array of trail options in the mountains around town. After a big hike, the trek out to Black Rock Hot Springs to soak and unwind is non-negotiable. Easy access to the Rio Grande adds water sports, rafting, and fishing to the itinerary.
Utah
Bryce Canyon National Park, 8000-9000 feet along the rim – 7-hour drive from Phoenix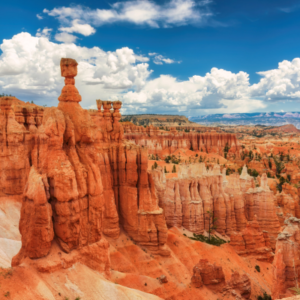 Bryce Canyon may not be as popular as Zion National Park, but that's one of the reasons we love it. You can escape the heat and the people by visiting Bryce Canyon (during the week if you can) in the summer months when it's a little on the hot side to make the rounds of the "Mighty 5" parks in Utah. The average highs between June and September are in the 70s and 80s—as compared to well into the 90s in Utah's other parks. The ethereal rock formations, known as hoodoos, are as strange as they are beautiful—with many miles of trail you can view them from the canyon rim above or walk amongst them on the canyon floor. Because of its remoteness, Bryce Canyon is also an excellent place for stargazing!
Glen Canyon Recreational Area – 4.5-hour drive from Phoenix
Glen Canyon may get pretty hot in the summer months (still cooler than Phoenix), but with all the fun water-based activities, you can enjoy the heat and go for a swim to cool off any time of day. The marina offers boat rentals of every variety: pontoons, canoes, and paddleboats. The fishing in Glen Canyon is great, and the park is even offering an incentive program to catch and remove brown trout from the waters. Glen Canyon has miles of routes recently opened up to OHVs and ATVs—so you can go for an adventurous drive with the wind in your hair. And don't miss the guided tour of the Dam itself, to learn about water management in the desert southwest, and its ongoing impact in the state of Arizona.
For a 3-day trip including Page, AZ (also a great place to cool off) and Glen Canyon—check out our full trip plan here!
California
San Diego, sea level – 5.5-hour drive from Phoenix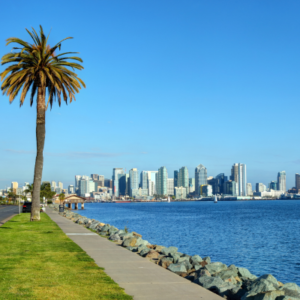 San Diego has a reputation for being always 75 and sunny – not strictly true, but not far off. Whether you want to surf, swim, or build sandcastles, San Diego is the spot. A world-class launch point for paragliding or hang gliding overlooks the ocean, if you're looking for a little more extreme in your adventure. Unlike many more remote adventure destinations, San Diego comes with all the amenities of a huge city. Aside from the amazing food, there is also the world-famous San Diego Zoo, museums, botanical gardens, and shopping to fill a day.
Colorado
Durango, 6512 feet – 7-hour drive from Phoenix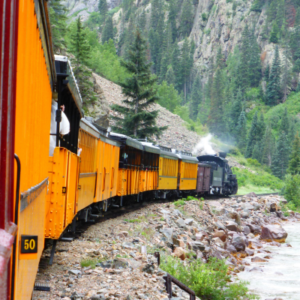 Durango is the best little city in Southern Colorado. With access to the stunning Animas River and the idyllic San Juan Mountain Range, opportunities for recreation of all kinds are endless. The nearly 500-mile Colorado Trail has it's southern terminus in Durango. And it's just one of hundreds of nearby hiking and mountain biking trails. Every Wednesday in June and July, the True West Rodeo is hosted at the county fairground. Take the famous narrow-gauge railroad from Durango to the historic high elevation town of Silverton for a day trip adventure. Then finish it off with a craft beer at one of Durango's six local breweries.
Pagosa Springs, 7126 feet – 8-hour drive from Phoenix
Not too far from Durango is the town of Pagosa Springs. Named for the natural hot springs in town, it's the perfect spot to get outdoors and relax. The San Juan mountains are an epic backdrop for a soak in the springs, but make sure to check the weather—even in summer months, snow is a possibility at over 7000 feet. You can find hiking, biking, and skiing in the mountains around town, but we love the short walk to Treasure Falls. Whitewater rafting on the San Juan River is also a popular way to adventure in the area.
To link a trip to Durango and Pagosa Springs, make sure to stop off at Chimney Rock National Monument in between.
Guest writer: Christine Reed, @ruggedoutdoorswoman.