Having spent most of my time in Northern Arizona on previous trips to the desert, I didn't know what I was missing until a close friend bought a house in Bisbee. She described an artsy old mining town tucked into the Mule Mountains just north of the Mexican border—I was instantly curious. When I started working with N2 Explore, it was one of the first places that came up as a fun place to go explore in one of our vans, so I scheduled the trip for April, right when Phoenix would start heating up, and the Southern Arizona mountains would be the perfect escape.
As I researched the area, I quickly realized there was so much to explore, that planning a 3-day trip would be quite a challenge. I've included everything here you need to know to have an action-packed long weekend in Southern Arizona, but I guarantee it'll just be a taste, and you'll be wanting to come right back!
For other ideas to escape the blazing temps of Phoenix in the summer, check out our story Beat the Heat: Cool Places to Cool Off in Arizona.
Day 1—Stop in Tombstone on the way to Bisbee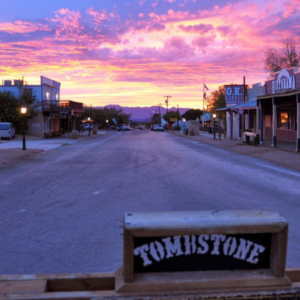 The drive from the N2 headquarters straight to Bisbee is close to 4 hours, but luckily there are some fun stops along the way. Once you've picked up your N2 Explore van, there are plenty of places in the Phoenix metro to stop for any last-minute provisions before hitting the highway. Or if you're desperate to get out the of the urban sprawl of the fifth largest city in the nation (we get it), you can break in Tucson, a little over 2 hours into the drive. Whether you stop in Tucson or not, say goodbye to city life as you hit the southern edge of town. In another hour, you'll find yourself rolling through the Wild West town of Tombstone.
Make sure to plan your day so that you can arrive in time to purchase tickets (only available in person) for one of the three daily gunfight reenactments just outside the OK Corral at 11 am, 1 pm, and 3 pm. Between the historic saloons, brothels, horse drawn carriages clomping down the streets, and the lively reenactment, you'll feel like you've stepped back in time. The small town can be thoroughly explored in an afternoon, which makes it a great waypoint on the drive to Bisbee.
Another 30-45 minutes down the road, Bisbee is built right into the mountainside along the highway. You'll want to park in one of the main lots in town and put your walking shoes on. The streets are often steep and narrow, with so much to see in every direction—Bisbee is best experienced on foot. There are many official art galleries around town with works from local artists, but I enjoyed the outdoor art even more. Dozens of murals are scattered around the city, and the alleyway gallery curated by the town magician is not to be missed. Art both beautiful and strange decorate the building and fence line on either side of the alley, exposed to the elements and ravages of time.
Bisbee is well known for its night life. For a small town, it has an impressive number of bars and breweries, many of which host live music almost every night. So maybe change into your cowboy boots and dance it out before heading to bed.
Day 2—Kartchner Caverns State Park  
About an hour from Bisbee is Kartchner Caverns State Park, where a fairly recent (1970's) discovery turned an unassuming corner of the Kartchner family ranch into an amazing destination. You'll want to book your cave tour in advance, as they do fill up—especially on the weekends.
Depending on the time of your tour, plan to spend an hour or more exploring above ground either before or after. I hiked the Foothills Loop Trail, a relatively gentle 3-mile loop which ambles over the sloping hillsides just before heading into the visitors center for my tour. This provided an even greater shock factor when we entered the cave, and I was able to compare the bucolic calm of the surface with the fascinating microcosm directly underneath. I'm generally not one for organized tours when I travel, but it's the only way to see Kartchner Caverns, and for good reason. The cave provides a very particular and particularly fragile ecosystem for the bats who visit every year to give birth and nurse their young. The Visitor's Center itself is worth spending some time in as well.
From there, you'll likely have plenty of time to head to Patagonia Lake State Park for the night.
Day 3—Patagonia Lake State Park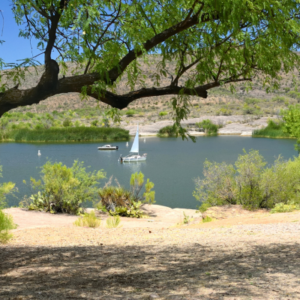 Wake up early and enjoy sunrise over the water. A day on the lake isn't something most people think of when they think Arizona, and Patagonia Lake is a particularly sweet little gem. There is very little development around the lake, pretty much only the state park, and the surrounding mountains add something really special to the place.
Rent a canoe, rowboat, or paddleboat from the state park marina for a different kind of human powered adventure. After an action packed first few days, a relaxing morning at the lake is the part of your trip that will leave you feeling recharged before your drive back to Phoenix and the inevitable Monday morning. Spend the day grilling out at the campsite, swimming in the lake, or exploring the trails in neighboring Sonoita Creek State Recreation Area. When you're finally able to peel yourself away, we'll be ready and waiting for you at N2 Headquarters.
Where to Stay
Camping in Arizona State Parks
Campsites within Arizona State Parks can be competitive business during the high season, but with a little planning ahead, you can likely wrangle a spot at Patagonia Lake State Park or Kartchner Caverns, which have over 150 sites combined. Waking up right where you're planning to be for the day is my definition of luxury, and one of the reasons that camping in a van is so convenient! Be sure to reserve your spot at State Park Campsites.
For the first night of your trip, you may also consider staying in Bisbee. It's an incredibly nomad-friendly town and there are several places where vehicles can park overnight with no hassle. When stealth or street camping, just be aware of what facilities will be available to you at what time and make sure that you are self-contained and leave no trace.
Day 4—Bonus Stop through in Tucson
You will drive through on the way out of Phoenix and on the way back, why not add a day in the Tucson? Tucson is well-known for its amazing Southwestern cuisine and vibrant arts community. If you like Bisbee, there is certainly something in Tucson that you'll enjoy too! Mt Lemmon looms large over the city, offering a chance to hike to higher elevation and cooler temps, and get a bird's eye view of the city.
I stopped off for a night at the locally owned and recently revamped Hotel McCoy on my way back from Bisbee and loved the funky retro vibe. The buildings are painted with murals and poetry, while each room features art from a different local artist. Top that all off with "the world's longest oatmeal bar" and a heated salt-water pool and I'd say it's worth staying an extra day for.
Guest writer: Christine Reed, @ruggedoutdoorswoman.